---
Seeing . . . Feeling . . . Capturing . . . Sharing . . .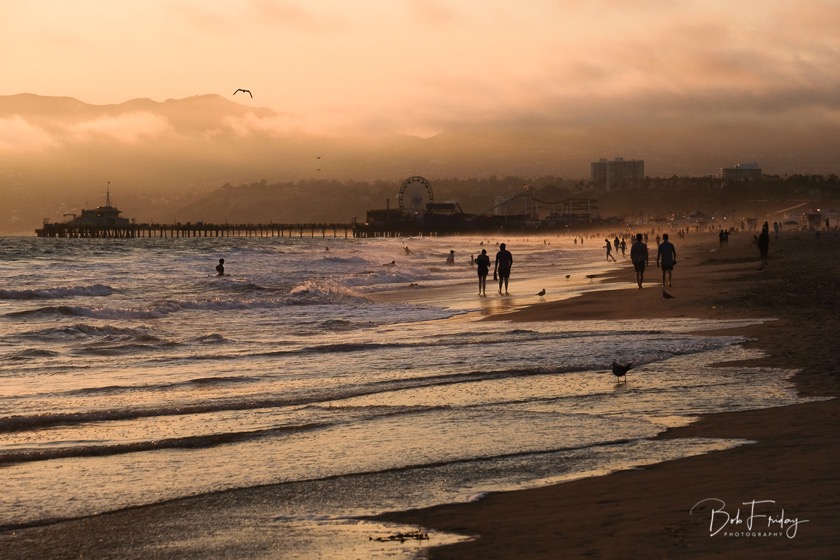 How a day like this one could end so beautifully is one of the delightful mysteries of life!
The young son of close friends was having a blast at a summer skateboarding camp when he took a tumble and ended up in UCLA Med Center Emergency Room with a very broken leg! We ran over to scoop up his 9 year old sister and take her home with us while doctors attended to the boy and his traumatized, freaked-out dad! Her non-stop patter about concerns for her little brother and worries as to how he would get along with a huge cast on his leg and how he would get up the stairs to his room in his mom's house and a litany of other stream-of-consciousness items made Debbie and I realize that we needed a diversion — and quick! Part of that diversion was a big, fat, juicy burrito from Whole Foods! The other part was to take her down to the waters edge as the sun was slowly sinking in the early evening and let the waves, sky and sand do its magic. As always, I brought my camera — and captured this sublime view of our wonderful beach just past sundown. Life is crazy. Life is good . . .
June 2021
May 2021
April 2021
March 2021
February 2021
January 2021
December 2020
November 2020
October 2020
September 2020
August 2020
July 2020
June 2020
May 2020
April 2020
March 2020
February 2020
January 2020
December 2019
November 2019
October 2019
September 2019
August 2019
July 2019
June 2019
May 2019
April 2019
March 2019
February 2019
January 2019
December 2018
November 2018
October 2018
September 2018
August 2018
July 2018
June 2018
May 2018
April 2018
March 2018
February 2018
January 2018
December 2017
November 2017
October 2017
September 2017
August 2017
July 2017
June 2017